Serving the Detroit Metro Area

Ann Arbor, Auburn Hills, Beverly Hills, Bingham Farms, Birmingham, Bloomfield Hills, Bloomfield Township, Brighton, Clarkston, Commerce Township, Davisburg, Dearborn Heights, Detroit, Farmington, Farmington Hills, Fenton, Hartland, Highland, Holly, Milan, Milford, Novi, Northville, Pontiac, Royal Oak, Saline, Southfield, South Lyon, Sterling Heights, Sylvan Lake, Union Lake, Utica, West Bloomfield, White Lake, Walled Lake,  Willis, Wixom, Ypsilanti.


Our daughters first airbrush tattoo was far from

a fun experience, when she asked the artist if he

could change a color to her favorite, he said "no"

and turned to us for payment. 

We wanted to create an airbrush service of our

own and have FUN with it too, which is easy to

do when you are a kid at heart.  Changing the

color(s) of any design we offer is just the start

of the FUN we have while interacting with our

guests!

If you are looking for something fun, unique,

or just plain different for your next party or

event, I hope you will consider "Big Daddy

Body Art".

MAKE YOUR NEXT

PARTY A HIT WITH

AIRBRUSH TATTOOS!

~

NO NEEDLES!

~

FANTASTIC

conversation

starters! 

~

Try out a new

look or

style today!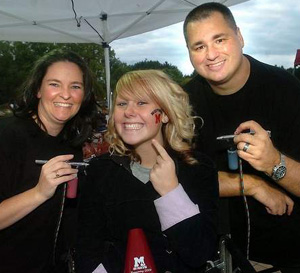 Stacey & Bill Austin ~ Owners / Artists

Big Daddy Body Art

People always say "Do something you love", I'm already

doing that by being a stay-at-home dad, but when I am

at a party I have as much FUN applying tattoos as the

guests who get them! 

~ Bill

"Helping the guests pick their favorite design and adding

their favorite colors is really fun!"  The repeated smiles

have me saying "This is my fun job!" over and over again.

~ Stacey